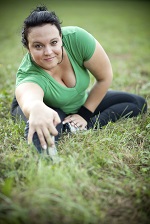 You don't have to be a particular size to practice yoga and to enjoy the benefits of yoga.
A regular yoga practice decreases stress, improves flexibility, and increases muscle tone and strength. Using props and modifications, the ease, power, pleasure and relaxation of being in a yoga pose is made accessible to all. Then the benefits will flow:  Better balance, flexibility, strength, stress reduction and increased mind body awareness.
Transform Yoga has developed a unique Yoga Program for larger individuals. We provide a nurturing environment and we are not focused on weight loss.
Our Big Yoga class will start in Spring so register your interest with us today. Call us or email