Am I the last person in the world to try Stevia? I feel years out of date but have finally tried out this sugar free natural sweetener. I couldn't source the granules so I used a half measure of the powder instead. This is a lovely protein rich snack with just a hint of sweetness. The tahini gives it a nutrient boost. I made a double batch thinking it would last out the week for sprinkling on the kids' porridge. Well, our home thought it too delicious to last that long. Try it and enjoy!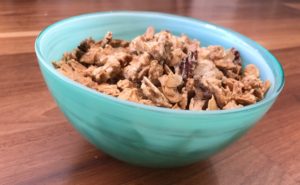 Serves 25
Prep: 10 minutes, plus cooling time
Cooking: 15 minutes
1 large egg white
Pinch of cream of tartar
2 tablespoons tahini
1-2 teaspoons stevia granules
1 teaspoon ground cinnamon
1/2 teaspoon ground ginger
1/4 teaspoon freshly grated nutmeg
60g flaked almonds
40g pecans or walnuts, roughly chopped
40g raw unsalted cashews, roughly chopped
40g macadamias, roughly chopped
2 tablespoons sesame seeds
Preheat the oven to 180 degrees Celsius (160 degrees fan-forced) and line two baking trays with baking paper.
Beat the egg white in a bowl with a handheld electric mixer until frothy. Add the cream of tartar and beat until soft peaks form, then beat in the tahini, stevia granules, and spices until combined (the mixture will be thick but not airy.) Fold in the nuts and sesame seeds until everything is coated.
Spread the mixture over the prepared trays in a single layer. Bake, stirring every 5 minutes, for 10 -15 minutes or until golden.
Allow the nuts to cool completely on the trays. Break into smaller pieces, if necessary, and store in an aitright container for up to 2 weeks.