Our Clinic
Holistic health and natural therapy treatments
Our brand new clinic rooms are set up for a range of holistic health and natural therapy treatments. All the therapists who work from our premises are qualified, experienced, caring and registered with their respective professional organisations. Health fund rebates possible, please ask your therapist on booking.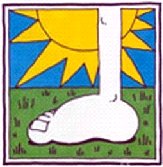 Linda Birch Reflexologist
Reflexologist Linda Birch has 15 years experience as a reflexology practitioner. As a Professional Member of the Reflexology Association of Australia, Linda continues her education with fellow accredited reflexologists. Linda is available Wednesdays to Saturdays for treatments at our clinic. Rebates are available from selected health care funds.
Reflexology is a gentle, noninvasive, totally holistic therapy. It is based on the principle that there are reflexes in the feet, hands and ears that correspond to every organ, gland and part of the body. It is a whole body treatment – not just a foot massage. In a reflexology treatment, pressure is exerted on these reflexes by the thumbs and fingers. This is combined with massage, relaxation, and joint mobilisation techniques. The result is homeostasis (internal balance) in the body. People who haven't experienced the healing benefits and immense pleasure of reflexology find it hard to believe that something so enjoyable can be so good for you!
Phone: 0409 322 131

Email Linda: click here

Website: Visit Linda's website

Salon S Waxing and Beauty Boutique
Salon S. offers premium professional treatments for your skin, body and nails. In Salon S. we practice our expertise towards Women and Men's health and beauty care.
Waxing
Facials, Eye Contour and Deep Cleansing
Tinting
Hand and Feet Treatments
Body Treatments
Gift Vouchers to Spoil your Loved One
Our professional specialist with 15 years of experience will assist you in choosing the best solution to match your skin conditions. The facial treatments we offer will help clients reverse the damages on your skin and body. These can be caused by air conditioning, pollution, diet, and everyday stress. Salon S. is a quick escape from your daily demanding atmosphere. We also specialise in waxing and eyelash/eyebrow tinting which assures you the perfect summer look.
Salon S is open 6 days a week, Mondays – Saturdays by appointment. Check the website for full details and pricing.
Phone: 9977 0123 / 0401 041 256
Email: Click here
Website:  Find out more here
Clinic room available
We are on the look-out for therapists! Are you a natural therapist searching for the perfect match for your consulting room? Why not contact us at Transform Yoga Pilates Barre and let's talk about setting up something great.