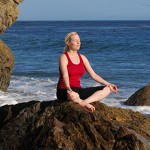 MAY MEDITATIONS – A unique meditation series to generate flow and good will. You will feel great as a result and what a great way to contribute to Seaforth's Dalwood House, and support local families in stress and children in need.
Each weekly session will consist of:
A short 'mind fitness' technique to hone concentration
A body-based guided meditation to hone mindfulness of form and senses
A guided contemplative meditation to delight and hone the build and movement of our bodies internal energies.
Donation: Participants will be asked to intuit for themselves the value of their experience each week and donate a corresponding amount to a money bowl at the door. At the end of the month the groups will close with a blessing and the bowl will be donated to the Dalwood Spilstead Services, Seaforth to directly support families in need in our local neighbourhood.
Weekly Session       Theme                                   Dates (1.30pm-2.30pm)
Session 1:                   The Still Centre          Wednesday 7th & Friday 9th May
Session 2:                   Beauty of Balance     Wednesday 14th & Friday 16th May
Session 3:                   Unified Field              Wednesday 21st & Friday 23rd May
Session 4:                    Goodwill Rising        Wednesday 28th & Friday 30th May
                                         May Meditations Close
Proceeds donated to Kerry Gwynne, Dalwood Director
The sessions stand alone and are repeated each week on Wednesday and Friday. Participants can choose to join one, some or all weekly sessions, or repeat sessions in the week to experience the same practices through different teachers.
Book here: (click ahead to the month of May, and use the sign up now button to register for each of your chosen sessions)
The proceeds from May Meditations will be used for the ongoing provision of Art Therapy for Dalwood's most traumatized children
About Art Therapy for Children:
"Many of the very young children in the Spilstead Service have been exposed to traumatic experiences related to family violence or disturbed early relations resulting in attachment issues, emotional disorders and behavioural problems. These experiences contribute to conflict in the child's inner world, leaving them feeling powerless and overwhelmed.
Art Therapy offers these children a place to express themselves naturally and
without the threat of words. The therapist can help the child to experience and
express his/her feelings and think about what is happening to them in a
meaningful way. The relief and understanding brought about by the therapeutic
process enables the child to become strong enough within themselves to
withstand trying conditions and develop more adequate ways of coping. The
therapeutic process provides the opportunity for the child to more successfully
negotiate their own developmental processes and emotional growth."
Session times:          Wednesdays & Fridays through May
1.30pm-2.30pm
To find out more about the project, Dalwood Spilstead Services  or the session plans and practices, please email Christina